PH #2: Here's to the lazy ones 😴
The nappers. The snorers. The sleepy heads. The explorers in search of the cold side of the pillow. The ones who sleep in every morning.
---
Hey, this is Igor from Product Highlights with your weekly dose of product management content. Let's get into it.
---
Product unchained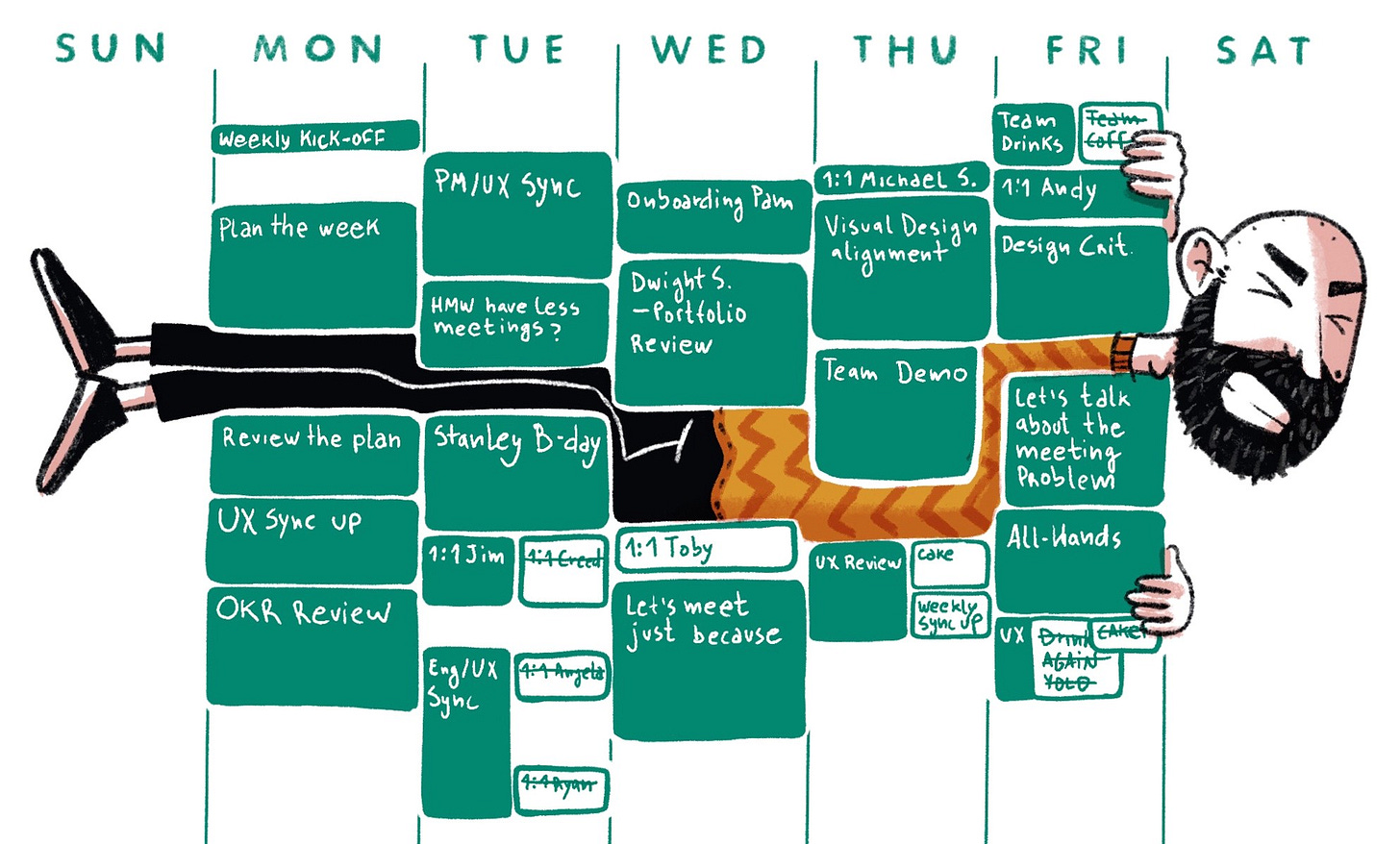 It's not your first day as a product manager, and your calendar probably looks something like this. You check your email and there are 5 more pending invitations of 'yet another weekly sync-ups' of some sort.
It's extremely easy to get wrapped up in these 'managerial' routine activities that make you feel oh-so-important. But at the end of the day, these meetings don't get you anywhere on a strategic level.
More specifically, such a tight schedule will stop you from:
Coming up with a new disruptive feature

Getting a piece of extra valuable customer feedback

Having a good enough helicopter view of your team/processes/etc. to be critical of it
This might have sounded a bit pessimistic, but there's a light in the end of the tunnel. And today it comes in the form of an amazing article with tips on time management published on UX collective. Even though it speaks about designers, it can easily be applied to product managers. Especially with the lines between roles being as blurred as today.
Key takeaways:
Book some "me" time in advance. Supercharge it with a recurring event that your team knows about and respects.

Decline every single optional meeting. Join only those that won't be possible without your presence.

Start the day with (at least) an hour solo activity. Don't check your email or messengers during this time.

Don't default to weekly meetings. Ad hoc works just as good, especially when you're not sure how often these would have to be.
---
Problem-solution canvas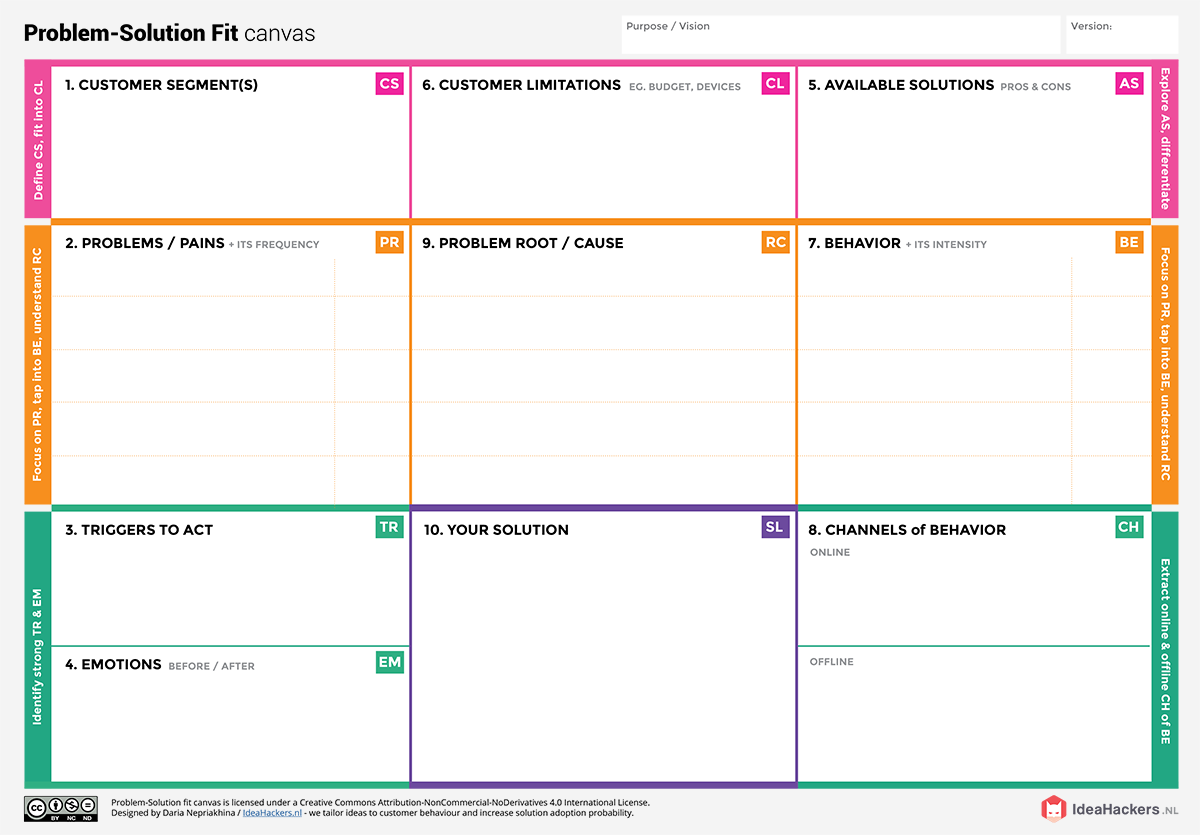 There's Lean Canvas, and there's Business Model Canvas. There are actually all sorts of canvases out there. And just like with the i/o standards, here's yet another one to rule them all — a problem-solution canvas by Daria Nepriakhina, the founder of IdeaHackers (which I will definitely cover in future issues).
Expanding on the principles of the Lean Canvas, it's aimed at helping identify behavioral patterns and find out if a certain solution would work or not. Formalizing the whole process seems like a great idea, especially if we're talking about moonshot ideas and inventions since a framework like this allows you to drastically decrease the amount of uncertainty and time spent testing your ideas.
Problem-solution canvas is divided into:
Customer State fit (pink): to make sure you understand your target group, their limitations, and their currently available solutions, against which you are going to compete.

Problem-Behavior fit (orange): to help you filter out the noise and identify the most urgent and frequent problems, understand the real reasons behind them, and see which behavior supports it. Is this behavior weak or infrequent — is it a problem worth solving?

Communication-Channel fit (green): to help you sharpen your communication with strong triggers, emotional messaging, and reaching customers via the right channels.

Solution guess (purple): translate all the validated data you have gathered into a solution that fits the customer state and his/her limitations, solves a real problem, and taps into the common behavior of your target group.
Working with the canvas:
State your vision.

Define customer segment.

Fit within customer limitations and differentiate / be better than available solutions.

Solve a frequent, urgent or costly problem by analyzing its root/cause, fit into frequent/natural/familiar behavior which is directly or indirectly related to the underlying problem.

Identify triggers that work in real life, and emotions (before/after) to strengthen your communication, so that you can activate your potential customers via online and offline channels, by designing a solution that fits customer limitations, problems, and existing behavior.

Your solution might become different over time, adjusting to an ever-changing market landscape, but your vision should stay the same.
---
Here's to the lazy ones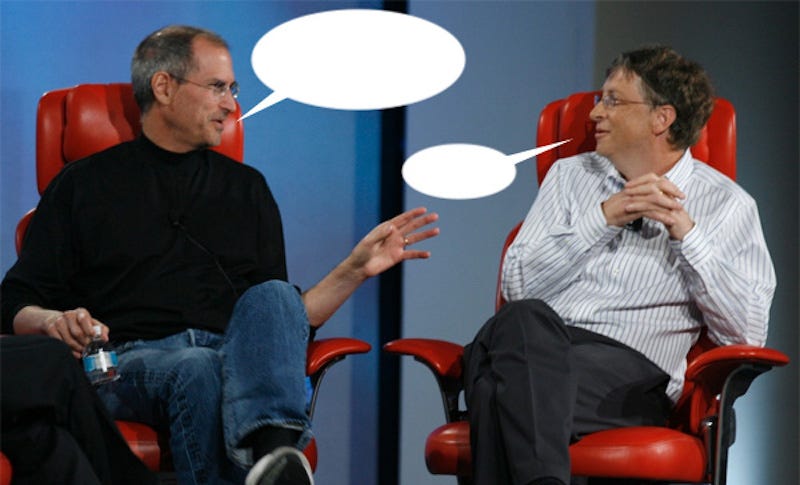 I love templates. They save you precious time (about a minute total, but who cares) and you don't have to use your brain figuring out where to start.
But more importantly, using different templates from time to time gives you a new perspective on everything you do — especially useful if you've stuck with one methodology for a while.
Anyway, here are my personal favorites:
---
Extra reads
---
Thank you for reading! If you enjoyed it, please share it with a friend. Or your mom. Preferably both.
Have a great weekend!